See Our Car Fleet
At WeddingTrans.com we offer such Classic Limousines as the 1966 RR Princess Vanden Plas to a 1956 Vintage Bentley! We also offer more contemporary limousines in white or black, SUV stretch limousines, Shuttle bus's up to 28 passengers and large capacity limousine buses that hold up to 55 passengers
See Images
Quote and
Availability
Imagine one of our beautiful Classic Limousines arriving before your grand exit from your wedding reception. Your Chauffeur steps out of your amazing Vintage limousine and gets prepared for your departure. He lays out the Red Carpet, and installs the Ribbon Bonnet in your wedding colors. Checks to make sure your Just Married Sign is straight and that your Champagne is on ice and your glasses ready. He dawns the signature White Gloves and gets ready for your Grand Exit for the start of your amazing life with your new partner in life. If this sounds like the time you want for you and your spouse please check for availability and receive a quote for your special transportation needs.
Quote and Availability
Wedding Planning Help
Click on the images below to check out some of the Great resources available for finding help with your Amazing Wedding Day.
Spotlight on Weddings
We had an amazing time at this wedding in October of this year. Nichole and Traquez  were a blast. We drove all over Atlanta and took pictures with there cell phone just trying things and we got this one. One of seven amazing photos of our amazing Vintage Bentley and two beautiful people that were just having a blast on their wedding night. Thinking out of the box with a good phone camera and you can have this as well. Give us a call we would love to provide you with Amazing Vintage Wedding Transportation.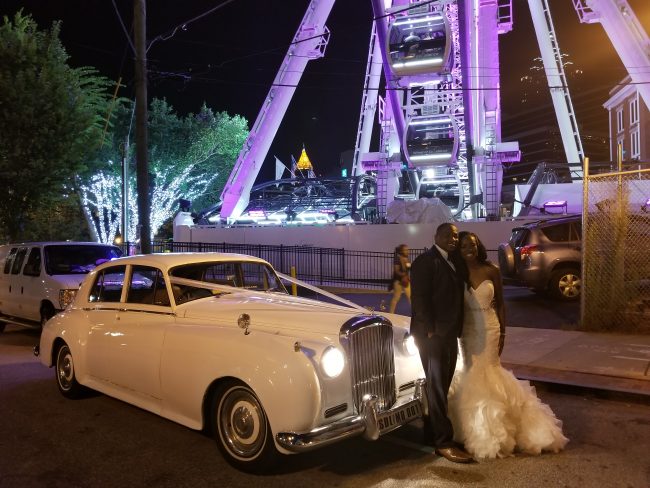 We truly want to take the time for you to have something memorable on your wedding night. We are arriving 30 min. early for your photographer to have the time to set up and get that shot. Our Royal treatment includes: One of our Beautiful Vintage Wedding Cars, Your driver in Tux, White ribbon on our cars, Just Married sign in the rear window, Red Carpet, Beverage service and a chilled bottle of champagne or Cider for your toast to your Bride or your Groom at the final drop off. This is the norm for our company, We are the Right Choice!.
Testimonials:
We were very pleased with Special Day Limo.
The car was great and the driver was very
friendly. They were very easy to get
in touch with and helpful in selecting a car…